Latest News
E-Scoop: spectacle glasses for an improved vision with Macular Degeneration

Kingshill Opticians are proud to offer E-Scoop lenses as a new potential hope for Macular Degeneration Suffers.
Video Here

E-Scoop® glasses are highly sophisticated spectacle glasses for people suffering from Macular Degeneration (MD). After more than 20 years of development, E-Scoop® has been patented in many countries worldwide.

The principle behind the E-Scoop® lens is to achieve better vision by shifting the image from the central portion of the macular (where cone damage is concentrated), to the periphery of the macular (where often times the cone damage is less severe).

The quality and sharpness of the macular periphery will vary compared to the central part of a healthy macular, but possibly (significantly) better than the vision with a damaged central macular.
History
On September 8th, 2012 Frans Oosterhof passed away due to the terrible ALS muscle disease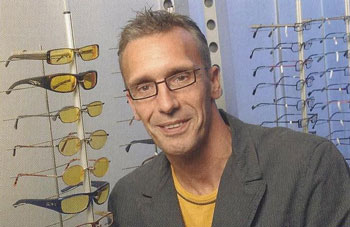 (Ice Bucket Challenge). He was only 54 years old. Frans was the inventor and maker of the patented E-Scoop® glasses.

He was a well-educated optometrist, a craftsman and an optimist. His goal was to help people with poor vision see better. In his former optician store in Eindhoven, Netherlands he frequently saw people with the eye disease Macular Degeneration.

For over 20 years, Frans worked to successfully develop a spectacle glass with the goal to improve the vision of his patients suffering from Macular Degeneration.

After the successful patent application for the E-Scoop® glasses, his invention was nominated for the Herman Wijfels Award. He was very proud to receive this award in 2006!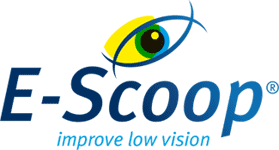 Frans had only begin to bring the E-Scoop® glasses to market when he became terminally ill. It was his dream to give these glasses worldwide recognition, hoping to contribute to the quality of life for all people suffering from Macular Degeneration.

After he passed away his wife (Anja Verstappen) decided to continue his dream with the same passion and belief. The E-Scoop® glass has proven itself with thousands of happy and satisfied users.

Frans had a dream ………………………..improve low vision!
Call us on 01732 875544 to book your free trial.
Two Videos Here