Latest News
Copper mesh spectacle lenses are a revolutionary product that can help with a whole range of eye conditions, many of which are aggravated at this time of year, when we spend more time indoors with drying central heating and working by electric light for more hours of the day. If you suffer from tired eyes, headaches, motion sickness, Multiple Sclerosis, Chronic Fatigue Syndrome, Fibromyalgia or even reading difficulties, they could be the solution you've been looking for.
What are copper mesh spectacle lenses?
Copper mesh spectacle lenses have a very fine layer of copper mesh in them which helps to eliminate glare, and the problems associated with it. This has been developed further into a unique Copper Mesh with blue-light blocker to provide maximum respite in today's digital world; these work to reduce glare and eye strain by aligning scattered light and reflections, so sharpening contrast.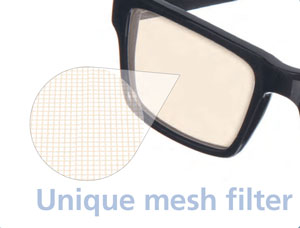 What conditions can they help with?
Copper mesh spectacle lenses can be used on their own or in conjunction with prescriptions to improve your vision and reduce conditions that are aggravated by eye strain. Our patients have found them useful for a range of conditions including:
Headaches
'I hardly get headaches anymore, even when I drive lorries every day with strain on my eyes and when I use my laptop.'
Migraines
'My migraines have reduced significantly since wearing my Copper Mesh glasses all the time.'
Tired eyes
'My eyes are so much more comfortable - almost like they can just relax.'
Computer screens
'My Copper Mesh glasses have eliminated my eye strain, my tired eyes.'
Driving
'The Copper Mesh glasses have improved my night driving by 30%.'
Multiple Sclerosis and Motion Sickness
'They have eliminated the motion sickness I used to get in the car so now I do not get car sick anymore!'
Fibromyalgia
'These lenses have made such a difference.'
Chronic Fatigue Syndrome
'When I am not wearing my Copper Mesh glasses my eyes feel like they are on fire.'
Reading difficulties
'My son has moved up a set in reading already within six weeks.'
You can read more feedback from our patients about their copper mesh spectacle lenses here.
Battling with glare and tired eyes can have a big impact on your general energy levels and sense of wellbeing. We offer no-obligation trials with copper mesh spectacle lenses – if they work for you, they could make everyday tasks, such as working at your computer, driving or reading at night, much more pleasant and enjoyable.
To see if copper mesh spectacle lenses could help alleviate your eye strain, call 01732 875544
Kings Hill Opticians provide expert eye tests, eye care, glasses, lenses, spectacles and contact lenses
for patients in Kent and Sussex,
including Kings Hill, West Malling, Maidstone, Sevenoaks, Tonbridge, Tunbridge Wells and Paddock Wood.