Sounds incredible? It's true! EyeDream vision therapy corrects your short-sightedness during the night, so you can enjoy clear, comfortable vision without glasses or contact lenses during the day.

What is it?
EyeDream is a vision therapy that brings a modern approach to a technique known as orthokeratology. EyeDream lenses are manufactured from a special, highly oxygen-permeable material. When worn during the night, they apply a controlled shape to the 'window' at the front of the eye (the cornea), eliminating your short sightedness. This effect stays strong enough for you to function throughout the day without spectacles or contact lenses.
EyeDream utilises the tried and tested DreamLite lens design that has been available in Europe since 2002 and currently boasts thousands of happy patients.
Why you should?
Because you:
want clear natural vision all day – every day
find soft contact lenses irritate you at the end of a long day
would like to be able to take part in sport and other activities without having to wear contact lenses or glasses
want a safe and reversible vision correction therapy without surgery – you've considered refractive surgery, but are worried about the risks
have low to mid short-sight, with a spherical spectacle prescription of -0.75D up to -4.50D or Astigmatism of up to -2.50D.
Why Kings Hill Opticians?
Our optometrists are all qualified in complex contact lens fitting and have all undergone extensive training prior to treating patients with EyeDream. They can advise you of your suitablility for EyeDream and will work with you to make sure you get the best results possible. We will also monitor your eye health over time to ensure that you continue to have the best solution for your needs.
We also have other OrthoK lens designs available, should we be unable to find a solution with EyeDream.
Call 01732 875544 to book your appointment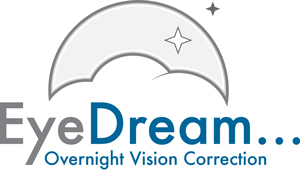 Testimonial
"After being a contact lens and glasses wearer for over 10 years I found my soft contact lenses dried out and sometimes became dislodged and my glasses became ever more inconvenient with my lifestyle of work, children, home, pets, gym. My optician suggested with the busy lifestyle that I have, EyeDream (Ortho K) would be the answer to my prayers. I simply wear my contact lenses when I go to bed, sleep in them all night and take them out in the morning. I just couldn't believe my eyes, I had perfect vision all day long. It was bewildering that I didn't have anything in my eyes and yet I could still see perfectly. This simple procedure meant that I could now, for the first time ever, see clearly whilst driving, reading, using my iPad, sports and activities with the kids. I also didn't have to worry about my soft lenses drying up towards the end of the day or having to use eye drops to make them more comfortable and no hassle from constantly having to adjust my glasses. I just can't believe that such a simple procedure that has so many benefits is not used by more people!"

Mrs Williams, Maidstone